Readymade Print on Demand Website | Potential Profit: 5000$/month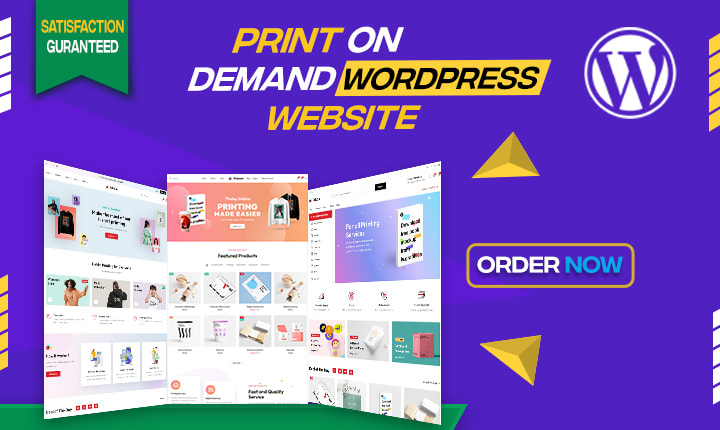 Introducing our Readymade Print on Demand Website – Your Gateway to E-commerce Success!
What is included?
Premium .com Domain + 1 Year Hosting + Readymade Website + Marketing Strategy + Website Manintenance + Customer Support
Are you looking to embark on a lucrative e-commerce journey without the hassle of inventory management? Look no further! Our Readymade Print on Demand Website is your ultimate solution for starting a successful online business with minimal effort.
Designed for entrepreneurs and creative enthusiasts, our platform offers a seamless experience for selling custom-designed merchandise. With just a few clicks, you can have your very own e-commerce store up and running, ready to showcase your unique product designs to customers worldwide.
Here's what our Readymade Print on Demand Website brings to the table:
Hassle-free Setup: Forget about the complexities of website development and design. Our platform provides you with a fully functional, visually appealing online store that reflects your brand identity. No coding skills required!
Customization Freedom: Express your creativity and brand uniqueness effortlessly. With our intuitive interface, you can easily customize your website's appearance, logo, colors, and fonts to create a captivating and personalized shopping experience for your customers. Although, we will setup and customize your store in the best way possible.
Diverse Product Range: Explore endless possibilities in product offerings. From trendy t-shirts, hoodies, and accessories to mugs, phone cases, and wall art – our platform supports a wide range of products, allowing you to cater to various customer preferences.
Seamless Integration: Our Readymade Print on Demand Website seamlessly integrates with trusted print-on-demand partners. This means you don't need to worry about inventory management or shipping logistics. When an order is placed, our partners take care of production, packaging, and delivering the products directly to your customers' doorsteps.
User-Friendly Dashboard: Stay in control of your business with our user-friendly dashboard. Easily manage product listings, track orders, and monitor sales performance. Gain valuable insights into customer behavior and make data-driven decisions to optimize your store's performance.
Marketing and SEO Tools: Boost your visibility and drive traffic to your store with built-in marketing and search engine optimization (SEO) tools. Maximize your online presence through social media integrations, email marketing campaigns, and search engine-friendly product descriptions.
Reliable Customer Support: We understand the importance of responsive support when running an online business. Our dedicated customer support team is available to assist you with any questions or concerns along your entrepreneurial journey.
Don't miss this opportunity to launch your very own successful print on demand business. Start monetizing your creativity and entrepreneurial spirit today with our Readymade Print on Demand Website. Let us handle the technical aspects while you focus on what you do best – creating stunning designs and delighting your customers.
Buy now and unlock the door to e-commerce success with our Readymade Print on Demand Website!
Sitefy is an IT platform where we provide high quality saas products & services with the help of the top 1% experts worldwide.​