Convert clone or transfer wix to wordpress website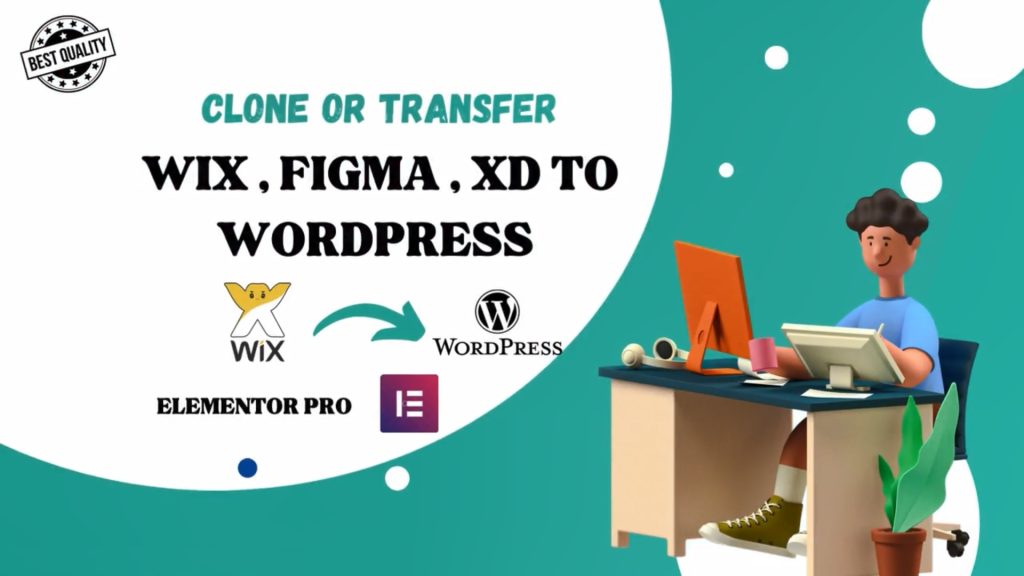 Are you looking to Transfer, Migrate, Convert, or Clone your XD, Figma, PSD, or Wix Website to WordPress?
Then you've come to the right place to clone your Wix site into WordPress.
We have been providing Professional WP Development Services for 5+ years and will clone 100% of your Wix website to WordPress with all functionality using Elementor pro to make it look more Professional, Clean, and Modern.
If you want we can redesign your XD, Figma, PSD , Wix to wordpress site.
What You will get?
100 % Satisfaction & Quality Work.
SEO Friendly
Install all necessary plugins
Subscription form with Popup
Live chat
Optimized images and Fast loading speed
Mobile, Tablet and Desktop responsive site
Websites Types:
Wix to WordPress Landing Pages, Blog, Business & Corporate or Real Estate or E-commerce. Or Different kind of Categories Sites we can build.
Why Us?
Top 1% verified and vetted WP experts are deployed to work for you
Support after order
Your satisfaction is our Priority
What I can transfer?
Posts
Pages
Tags/Categories
Images
Links
Preserve URL slugs
Ecommerce products
Navigation Menus
Forms
Integrations
Scripts / Widgets
Our Requirements:
WP admin login details
Hosting login(if needed)
Are you thinking to order and any Questions in Mind?
Live chat to get instant Solutions
Sitefy is an IT platform where we provide high quality saas products & services with the help of the top 1% experts worldwide.​